Wednesday December 14
A Swinging Christmas
St John's Smith Square

, Westminster, London SW1
(Part of the
St John's Christmas Festival

December 9th – 23rd 2022)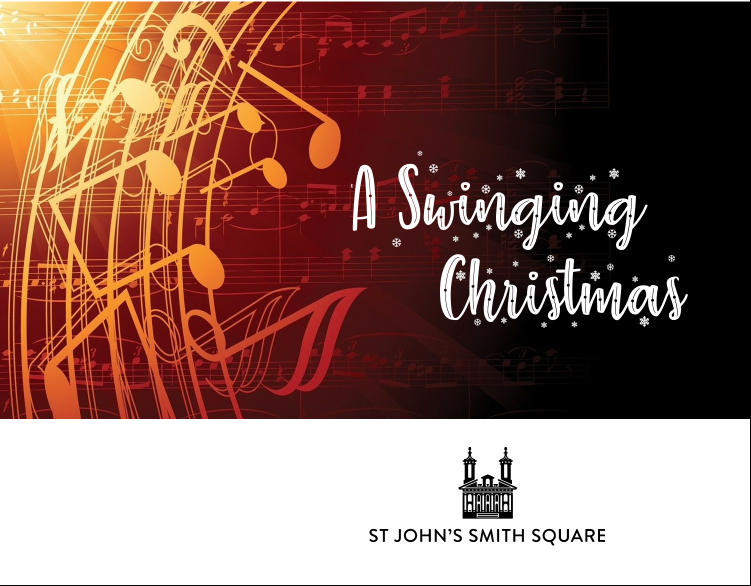 Featuring :-
London Vocal Project – ( Director/Arranger Pete Churchill) and
Jazz At The Movies – (Director/Arranger Chis Ingham)
In a "First", after 30+ years of Festival Christmas Music, St John's is delighted to invite JBGB Events to present this evening of Jazz Inspired Swinging Christmas music.
The London Vocal Project, directed by Pete Churchill is one of the UK's leading contemporary vocal ensembles, specialising in jazz and groove music. Formed in 2008 from graduates of London conservatoires, the 24-strong choir comprises singers, instrumentalists, composers and music educators. Their repertoire spans a huge breadth of genres, from jazz and popular music to gospel and groove.
Jazz At The Movies, a quintet of all – star jazz musicians, led on piano by Chris Ingham, with vocalist Joanna Eden and the saxophone/clarinet of Mark Crooks, have entertained jazz audiences for several years in major venues across the country. Their series of swinging Christmas music concerts have continuously sold out at Ronnie Scott's and other leading Jazz venues, with their sophisticated and entertaining style.
London Vocal Project and Jazz At The Movies, will perform many familiar and traditional Christmas melodies in their distinctive and compelling styles whilst also bringing some original and less familiar music to open ears.
We guarantee audiences an entertaining evening, designed to present complex musical arrangements in an easy to listen to manner, all designed to to put everyone in a very Happy Christmas mood setting you out into the night with a smile in your face and warmth in your heart
LONDON VOCAL PROJECT

In addition to performing their own arrangements and compositions at London's most famous venues, London Vocal Project have collaborated with some of the world's leading writers and performers, including the late Sir John Dankworth, Kenny Wheeler, Bobby McFerrin and Jon Hendricks.
Passionate about music education, the choral group have worked with various schools music services, leading workshops in composition and performance, culminating in major productions involving over 1,000 young musicians.
"London Vocal Project are thoroughly enjoyable, classy but utterly unpretentious" – London Jazz
London Vocal Project is led by established composer, performer, conductor and educator Pete Churchill.
His busy freelance career has included work as diverse as a year in the West End as a Musical Director of Five Guys named Moe, almost a decade and a half as the British accompanist for the legendary jazz-singer Mark Murphy and the conductor of the Kenny Wheeler Big Band. He has collaborated with Norma Winstone, Stan Sulzmann, John Taylor, Cleveland Watkiss, Julian Arguelles, Bobby Wellins and Tina May, and released several critically acclaimed jazz albums under his own name.
After almost twenty years teaching at the Guildhall School of Music, he is now Professor of Jazz Composition at the Royal Academy of Music in London whilst running the jazz choir at Trinity College of Music.
Pete regularly teaches in Australia, has given Jazz workshops for the ABRSM in Hong Kong, Malaysia and Singapore, and has been a guest lecturer at the Sibelius Academy in Finland. Each summer brings regular courses in France, Spain and Italy.
Pete Churchill received the Parliamentary Award for Services to Jazz Education in 2007 . His 'groove oratorios' for massed choir, orchestra and big band have been performed by school music services across the country including the Albert Hall
Here's the London Vocal Project singing the Sans Day Carol
JAZZ AT THE MOVIES

JAZZ AT THE MOVIES is a unique jazz group formed specifically to interpret movie themes and soundtrack songs taken from a wide-range of silver screen sources both familiar and obscure. Exploring the repertoire of Bacharach, Barry, Bricusse, Carmichael, Mancini, Gershwin, Sondheim and so many more, audiences are spell bound by the combination of joyous film memories and inspiring music.
Tonight at St John's, with their stockings full of 20th century holiday classics and curiosities, Jazz At The Movies revisit the wealth of wonderful Christmas music created for the festive season across the years on the silver screen and offering their compelling and almost addictive interpretations.
Sold out for nine years running at Ronnie Scott's, A Swinging Xmas has also delighted capacity crowds at The Royal Albert Hall's Elgar Room, Pizza Express Jazz Club Soho and at theatres & arts centres around the UK.
"One of the finest combos in the country..a great evening that satisfied both jazz and movie buffs alike, quite a trick" JAZZ JOURNAL
"Sublime seasonal jazz" BBC RADIO 2
Led by pianist/arranger/MC Chris Ingham, (who featured at St Johns in the 2020 London Jazz Festival, playing the music of Miles Davis), JATM features acclaimed vocalist Joanna Eden (longtime teacher/mentor to pop superstar Sam Smith), saxophonist/clarinettist Mark Crooks (woodwind star of the world-renowned John Wilson Orchestra), UK jazz legend Joe Pettitt (bass) and drummer George Double who has worked with Dame Shirley Bassey and Grammy Award-Winner Jack Jones.
Here's Jazz At The Movies in a kaleidoscope of Swinging Christmas music
"Movie songs like these provide good material for the best jazz singers. Joanna Eden and her first-class band had a ball with them ... and so did the audience!"
JAZZ JOURNAL
Please join us for a Swinging Christmas evening at St Johns with
London Vocal Project and Jazz At The Movies and put a festive spring in your step.
Music 7.30pm
Tickets £35. £25. £15.