Tuesday December 13
Chris Ingham's




Jazz At The Movies


-

A Swinging Christmas
Two Concerts at

Piano Smithfield

,

Long Lane

, Barbican, London EC1
Monday December 12th and Tuesday December 13th 2022
Following their success and positive audience reaction last Christmas, it's a most welcome return and for two consecutive nights, to Piano Smithfield by Chris Ingham's Jazz at The Movies: A Swinging Christmas show.
Sold out annually at Ronnie Scott's and regularly featured at Pizza Express Jazz Club in Soho, and in many venues across England's South East and now also in Birmingham, these two concerts at Piano Smithfield, Jazz At The Movies: A Swinging Christmas! are the perfect way to start your week and swing into the holidays.
These concerts are fronted by acclaimed singer Joanna Eden ("The UK's answer to Norah Jones and Diana Krall"- Time Out) following on from her earlier concerts at Piano Smithfield celebrating the 50th anniversary of the seminal album "Blue" by Joni Mitchell and more recently, her acclaimed evening with the magical music of Stephen Sondheim.
Supporting her are the groovy sounds of another Piano Smithfield regular performer, Chris Ingham with his Quartet ("One of the finest combos in the country" – Jazz Journal).
Jazz At The Movies: A Swinging Christmas! gathers jazzy festive favourites as made famous by Ella, Eartha, Frank, Doris, Dean, Bing and a whole gang of cool celluloid cats and hip Hollywood chicks.
Joining Joanna's vocals and Chris' piano skills are Mark Crooks on saxophones and clarinet, Joe Pettitt – double bass & George Double – drums.
Sit forward, be entertained and enjoy this taste of A Swinging Christmas
An enchanting show rich with anecdote, sophistication and swing, it was described by one audience member as "pure joy".
"One of the finest combos in the country and a seriously talented vocalist..a great evening that satisfied both jazz and movie buffs.Quite a trick" – Jazz Journal
"Joanna Eden – seek her out" - Michael Parkinson
---
Piano Smithfield is our newest jazz cabaret venue, and already receiving fantastic reviews.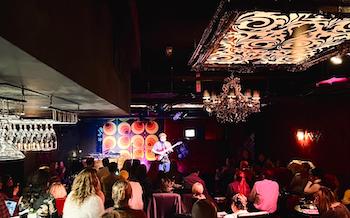 The Press say

"Piano Smithfield is a 5-stars venue I would urge you to visit if you like your jazz in intimate surroundings. It's cool. Damned cool" – Jeff Prestridge — Daily Mail


"Wall-to- wall style, sophistication and a stunningly good time..it's something to be experienced"
- Callum Crumlish — Daily Express
Audiences are in for musical treats in this much appreciated venue
"A small but perfectly formed little jazz venue"
"A lovely warm atmosphere"
"An enjoyable intimate venue"
"A real jazz club feel"
"A wonderful relaxing intimate venue"
"Highly recommended"
_________________________________________________________________
Music 8pm
Tickets £20 + £1.50 booking fee