Wednesday March 2
Jimmy Van Heusen
Jimmy Van Heusen
"All The Way", "Here's That Rainy Day", "Darn That Dream", "Call Me Irresponsible" and "Like Someone In Love" , are just five of the wonderful songs we all enjoy and have long been favourites of cabaret singers and jazz artists, all composed by composer Jimmy Van Heusen.
Tonight jazz cabaret star Chris Ingham presents the life and times and performs many wonderful songs composed by the Music Great that is Jimmy Van Heusen. Born as Edward Babcock, he renamed himself, aged 16, after the celebrated shirt makers.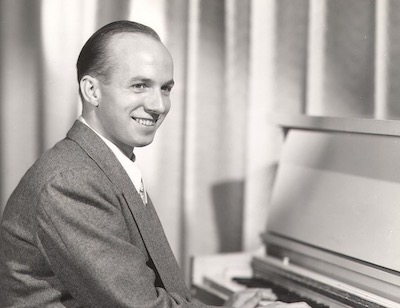 His songs were featured in over 500 Hollywood films. He was nominated for the Oscar Best song no less than 14 times in 12 years. He won four times with "swinging On A Star", "All The Way", "High Hopes", and "Call Me Irresponsible" and an Emmy Award for "Love and Marriage".
He was quite a ladies man with a style captured by James Caplin in his Sinatra biography , "Jimmy played piano beautifully, wrote gorgeously poignant songs about romance, he had a fat wallet, he flew his own plane and never went home alone,"
To give voice to this wonderful music and the lives and times of Jimmy Van Heusen, we present the vocal and piano skills of Chris Ingham, whose wit and charm, with stories, tales and anecdotes plus the performance of these wonderful songs, will give audiences a most enjoyable, informative and entertaining evening.
Here's a taste of what's in store with this excerpt from Chris Ingham's recent live streaming, exploring the music of Jimmy Van Heusen.
Music at 7pm
Tickets £20