Saturday December 10
Geoff Gascoyne

Christmas Big Band
Pizza Express Jazz Club

,

Dean Street

,

Soho, London

Geoff Gascoyne is one of the UK's most outstanding double bass players many have heard, seen and admired as a regular performer and accompanist with jazz greats, but have never experienced as a jazz group leader arranger and composer.

JBGB Events are especially proud to rectify this situation.

In keeping with our now regular series of Weekend lunchtime Big Band concerts, we welcome this rare London appearance for Geoff Gascoyne and his All Star 18 piece Big Band to Pizza Express for a Christmas Party Saturday Lunch Time concert, playing music from his successful Christmas KPM library. Expect a festive mix of traditional and newly composed Christmas music with new hip arrangements and surprise guest singers.

Here's a taste of what's in store from Geoff Gascoyne's Jazz Orchestra Christmas Album — Click on image below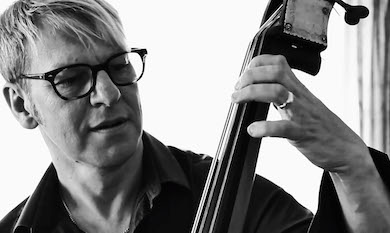 Geoff has been a professional musician for over 30 years. He has worked with such diverse artists as Michel Legrand, Van Morrison,
Georgie Fame, Sir Willard White, Sting, Charlie Watts, Benny Golson, Jacqui Dankworth , Dianne Reeves, Claire Martin and Eartha Kitt
He played a major part in the rise of Jamie Cullum with whom he worked exclusively from 2000 to 2007.
Geoff has appeared on over 100 recordings and has toured the world many times. He has recorded 10 CDs as a band leader and has arranged and composed music for countless others.
In the last 10 years Geoff has turned his attention to music production work. As well as producing albums for Jacqui Dankworth, Jamie Cullum, Josh Kyle and San2 and his Soul Patrol he has composed music for a series of Library recordings for the legendary KPM label. Geoff is also the producer of the highly regarded series of 'Sessionband' applications for iPhone and iPad. Currently there are 8 of Geoff's apps available in the iTunes Store.
Geoff is Professor of jazz bass at the Guildhall School of Music.
"Geoff is uniquely accomplished and experienced across all aspects of music making.It is rare to find such abilities all in a single musician. He was a massive part of my success - as an arranger, producer, musician, bandleader, collaborator, songwriter and as a killing bass player."- Jamie Cullum

"Geoff is a brilliant producer. His dedication to the music he loves is second to none.He supports and inspires the artist with constructive and productive energy.He's a force to be reckoned with!"- Jacqui Dankworth
Doors at Noon
Music at 1.00pm
Tickets £30
THIS CONCERT IS NOW SOLD OUT