Jazz Divas 2022
Saturday April 9
Georgina Jackson
The Pheasantry

,

152 King's Road

, Chelsea, London

SW3 4UT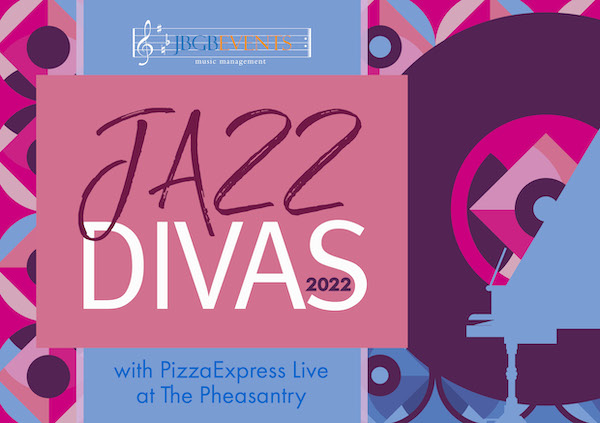 Georgina Jackson, with this long overdue Jazz Divas debut, delivers Entertainment with a Capital "E".
Her engaging personality, sparkling wit and above all superb stylish singing, makes her one of our most loved and in demand performers. Add to that her big band trumpet playing expertise, and our audiences are guaranteed a joyous evening.
"Georgina Jackson is just wonderful"- Claire Martin
Her most recent performances for JBGB Events, including her concert at Piano Smithfield, and at Pizza Express Jazz Club's lunch time Christmas concerts, both received long applause and smiles all round from happy audiences.
Developing a love affair with Jazz and Big Band music at an early age, Georgina worked as a professional trumpet player almost everywhere, learning her trade as a lead trumpet player.

Setting up her own Big Band to play at a local ballroom was the first step to fulfilling her frock and singing ambitions. Georgina's love of making an audience smile, cry, laugh and jiggle was born!

Georgina recorded her first CD, with support from Jazz FM (CD of the week) and Sir Michael Parkinson and climbed to Number 8 in the HMV jazz charts. The critical success of her first album led to Georgina landing her dream job as resident singer with the Ronnie Scotts Jazz Orchestra, where she performs most months.
Now, as featured vocalist and trumpet player with the Ronnie Scott's Jazz Orchestra Georgina has performed a variety of shows - Cole Porter Songbook, Big Bands at the Movies, 100 years of Big Bands and has performed repertoire ranging from Maynard Ferguson to Chakka Khan via Ella Fitzgerald and Peggy Lee.
Her outstanding performances with the BBC Big Band and Concert Orchestra; singing with the BBC Band and at the Proms at the Royal Albert Hall have brought her attention and praise from a wide popular music audience.
For this Jazz Divas concert Georgina brings a celebration of the music from the age of the classic crooner….from bluesy ballads to infectious swing and most things in between.
Enjoy this taste of Georgina in her swinging big band mode
Georgina is really very good indeed, a talent definitely worth supporting….top form" - Sir Michael Parkinson (BBC Radio 2)
If you can't get tickets too see Diana Krall, Georgina Jackson makes a winning substitute..." - Clive Davis (Sunday Times)
Doors 6.30pm
Music 8pm
Tickets £25
Tickets not yet on sale, please check back soon.