Tuesday November 29
Jivin' Miss Daisy


- A Swinging Party of
1920's to 1960's music.
Pizza Express Jazz Club

,

Dean Street

Jivin' Miss Daisy make a much requested return to Dean Street, led by British Jazz Awards nominee Simon Thorpe. Previous sold out shows by this ace All Stars 9-piece Band, have always delighted audiences. Their renditions of songs from many great songwriters including Gershwin and Cole Porter, playing a wide range of swing & jazz music, ranging from Duke Ellington and Jimmie Lunceford in the 1920s, through Tommy Dorsey and Benny Goodman in the 1930s and 40s, to Ella and Basie in the 1950s and early 60s provide a guaranteed swinging party mood.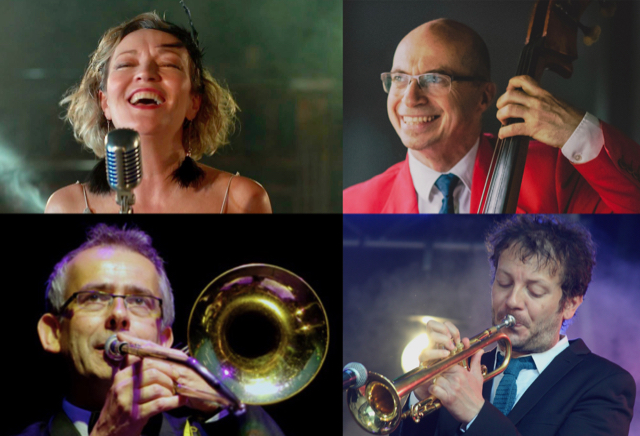 Featuring Liz Fletcher and Malcolm Earle Smith in vocal numbers, along with popular instrumentals and solo spots, the band puts on a wonderful show, with plenty of favourites - and lesser-known gems - from the great songwriters, with original arrangements by bandleader Simon Thorpe, featuring some from the band's most recent CD, "Whoop-De-Doo Songs",
The band features some of the UK's finest jazz musicians, with credits including Tom Jones, Katie Melua, Van Morrison, Wynton Marsalis, Bryan Ferry, Jools Holland, Stacey Kent and BBC Proms favourites the John Wilson Orchestra.
Here's a taster of what Jivin' Miss Daisy have in store for you
"Stand by for a great evening of foot tapping lively music designed to set you on your way home with a smile on your face" – The Hoste of Jazz
Tonight's show will feature a number of tunes from the band's most recent CD, recorded at Pizza Express Soho, "Rhythm & Blue"
Simon Thorpe, bass and band leader
Liz Fletcher, vocals
Malcolm Earle Smith, trombone and vocals
Alex Garnett, saxophones
Luke Annesley, clarinet and saxophones
Simon Finch, trumpet
Colin Oxley, guitar
John Pearce, piano
Matt Skelton, drums
Doors at 6.30pm
Music 8pm .
Tickets £27
Tickets not yet on sale, please check back soon.