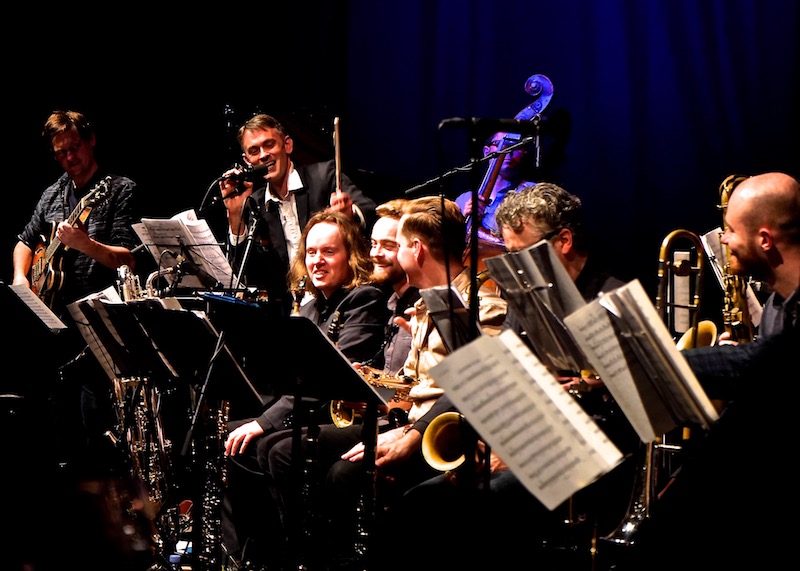 Sunday October 11
The
Gareth Lockrane

Big Band

Big Band Sunday Lunchtime concerts have become an established feature of our music presentations at Pizza Express Jazz Club on London's Dean Street

JBGB Events have, for the last two years, been enthusiastic promoters of the Gareth Lockrane Big Band and we are once again proud to promote their brilliant music and outstanding musicians, as we have done on several occasions to enthusiastic jazz lovers in sold out concerts.

The Gareth Lockrane Big Band is, in our opinion, the greatest ever UK Big Band and ranks alongside the great bands, from what has traditionally been the exclusive preserve, of the USA.

Think of the Thad Jones-Mel Lewis Band that in the late 1980's revolutionised Big Band arrangements, and then Wynton Marsalis and his Lincoln Centre Orchestra in the 1990's that made virtuosity common place, but then add new writing and distinctive arrangements, with a band leader playing flutes, and you have their 21st century dynamic successor in Gareth Lockrane and his Big Band.

For those who have attended their sell out concerts at PizzaExpress Live Dean Street, please come back for more. If you have yet to enjoy this remarkable world class 19-piece band, please join us for this Sunday lunchtime concert that will delight and amaze.

"...Lockrane is the next best thing and the most exciting and inventive instrumentalist in the country." – London Evening Standard

Doors at Noon

Music at 1.30pm

Tickets £27

Tickets not yet on sale, please check back very soon.