Sunday October 23
The Gareth Lockrane


Big Band Residency 2022
Pizza Express Jazz Club

,

Dean Street

, Soho, London
Sunday Lunchtimes
at 1pm. Doors at Noon
January 16th : May 15th & October 23rd 2022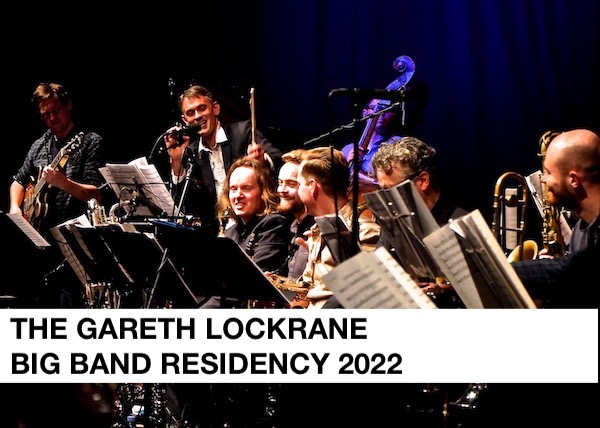 October 23 Concert
JBGB Events have, for the last three years, been enthusiastic supporters of the 19-piece Gareth Lockrane Big Band, promoting their brilliant music and outstanding musicians, to enthusiastic jazz lovers in sold out concerts.
Building on their annual concerts at Dean Street, we are now able to extend the partnership and hopefully satisfy audience demands, by creating a three concert residency across January, May and October 2022
The Gareth Lockrane Big Band is, in our opinion, the greatest ever UK Big Band and ranks alongside the great bands, from what has traditionally been the exclusive preserve, of the USA.
Think of the Thad Jones-Mel Lewis Band that in the late 1980's revolutionised Big Band arrangements, and then Wynton Marsalis and his Lincoln Centre Orchestra in the 1990's that made virtuosity common place, but then add new writing and distinctive arrangements, with a band leader playing flutes, and you have their 21st century dynamic successor in Gareth Lockrane and his Big Band.
This Three Concert Residency will feature not only a wealth of Gareth Lockrane's original compositions and arrangements, including numbers from their highly rated album "Fistfight At The Barn Dance", but also new writing for a further 2022 album.
The success of our Big Band Sunday lunchtime concerts at Dean Street is now extending into this residency, not only for established Gareth Lockrane supporters, but also to welcome music lovers of all tastes to experience the empathy, imagination and pure musical talent on show when 19 individual musicians come together to create one integrated sound with the original writing and arranging skills of Gareth Lockrane.
"...Lockrane is the next best thing and the most exciting and inventive instrumentalist in the country." – London Evening Standard
Here's the story and the music of their lead album "Fistfight At The Barndance"
The Line up for Gareth's Big Band is
Gareth Lockrane (flutes/tunes)
Paul Jones, Mike Chillingworth, Graeme Blevins, Paul Booth, Tom Smith (saxes)
Mark Nightingale, Trevor Mires, Olli Martin, Richard Henry (trombones)
Tom Walsh, Andy Greenwood, Steve Fishwick, Henry Collins (trumpets)
Mike Outram (guitar)
Ross Stanley (keys)
Ryan Trebilcock (bass)
Hugh Wilkinson (Percussion)
Ian Thomas (drums)
Please join us for what will be memorable Sunday lunchtime concerts.
Music 1pm
Tickets £28
Tickets not yet on sale, please check back very soon.