Tuesday July 28
CANCELLED DUE TO CORONAVIRUS
The
Gaz Hughes Sextet

plays

Art Blakey
At
Pizza Express Live
Dean Street
Soho, London
An evening of hard driving post- bop music from the Gaz Hughes Sextet, featuring Alan Barnes, from their new album.
Art Blakey was one of the most potent, hard swinging drummers of the post- bop era. His double shuffle technique propelled a legion of sidemen to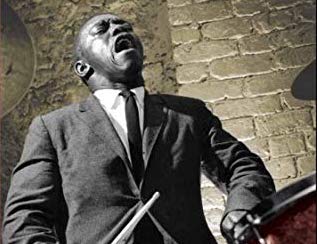 greatness across three decades with his Jazz Messengers ensemble.
Capturing the spirit of those magnificent Blue Note recordings, but with their own inventiveness comes the drummer Gaz Hughes for his London Dean Street debut with a sextet of UK all time greats.
Gaz has performed with many UK and international Jazz artists including: Scott Hamilton, Alan Barnes, Bruce Adams, Mark Nightingale, Digby Fairweather, Tina May, Art Theman, Gilad Atzmon, Julian Stringle, Roy Williams, Enrico Tomasso, Dave Newton, Tim Kliphuis, Dean Masser and many others .
Gaz has recorded his first album as band leader, featuring the music of the late, great Art Blakey and is embarking on a UK tour concluding at Dean Street
The musicians on the album are some of the most influential musicians in UK Jazz scene today and all feature in this concert.
Alan Barnes – Alto/Baritone Sax
Bruce Adams – Trumpet
Dean Masser – Tenor Sax
Andrzej Baranek – Piano
Dan Sheppard – Bass
Gaz Hughes – drums
CANCELLED DUE TO CORONAVIRUS