Tuesday November 28
The Return of




Mark Nightingale


&

Alan Barnes Sextet
Pizza Express Jazz Club

,

Dean Street

,

Soho, London

Following the massively successful SELL OUT concert at Dean St in March, back by overwhelming demand are two multi- award winning giants of British Jazz - Mark Nightingale on trombone and Alan Barnes on saxophones.

The 20th Century spanned 100 years of Creative Great Jazz Tunes: original, unique, long lasting, jazz compositions.

Whilst jazz musicians were, and continue to be, ready to improvise and syncopate melodies and chord sequences, originally written as songs - and many from Broadway shows, the greatest Jazz numbers were composed and arranged specifically as vehicles for instrumental jazz giants.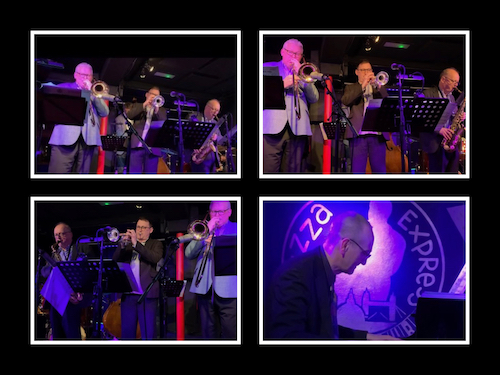 Normally you would be lucky to hear just a few Great Jazz Tunes in any one concert and would have to spend time, money and lots of energy across many evenings to hear several. Tonight, in just one concert you can hear, from start to finish, nothing other than Great Jazz Tunes.
Here are a few among of the many of the wonderful tunes we are hoping to feature in this concert.
The Duke - Dave Brubeck
Skylark - Hoagy Carmichael
So What -Miles Davis
Dont Mean A Thing - Duke Ellington
Boplicity - GIl Evans
Desafinado - Antonio Carlos Jobim
Straight No Chaser - Thelonious Monk
St Thomas - Sonny Rollins
Speak No Evil - Wayne Shorter
Peace - Horace Silver
Moanin - Bobby Timmons
and several more Great Jazz Tunes
Playing the Great Jazz Tunes, along with Mark Nightingale and Alan Barnes, are the all star line up of
James Davison – trumpet,
Graham Harvey – Piano,
Jeremy Brown – double bass
Ian Thomas -drums
"Mark Nightingale tells the trombone what to do and does not allow it to set the parameters for his improvisations… tremendous fluency and flair".- Leonard Feather
"Alan Barnes stylistic range is quite phenomenal… He has a wonderful capacity for suggesting a given style without actually imitating anyone."- Dave Gelly
Doors 6.30pm
Music 8pm
Tickets £28
Tickets not yet on sale, please check back soon.