JBGB Events

Present: -
The Best of British Jazz, in the EFG London Jazz Festival, at London's newest jazz club venue, Piano Smithfield at the Barbican, from Friday November 10th to Saturday November 19th, 2023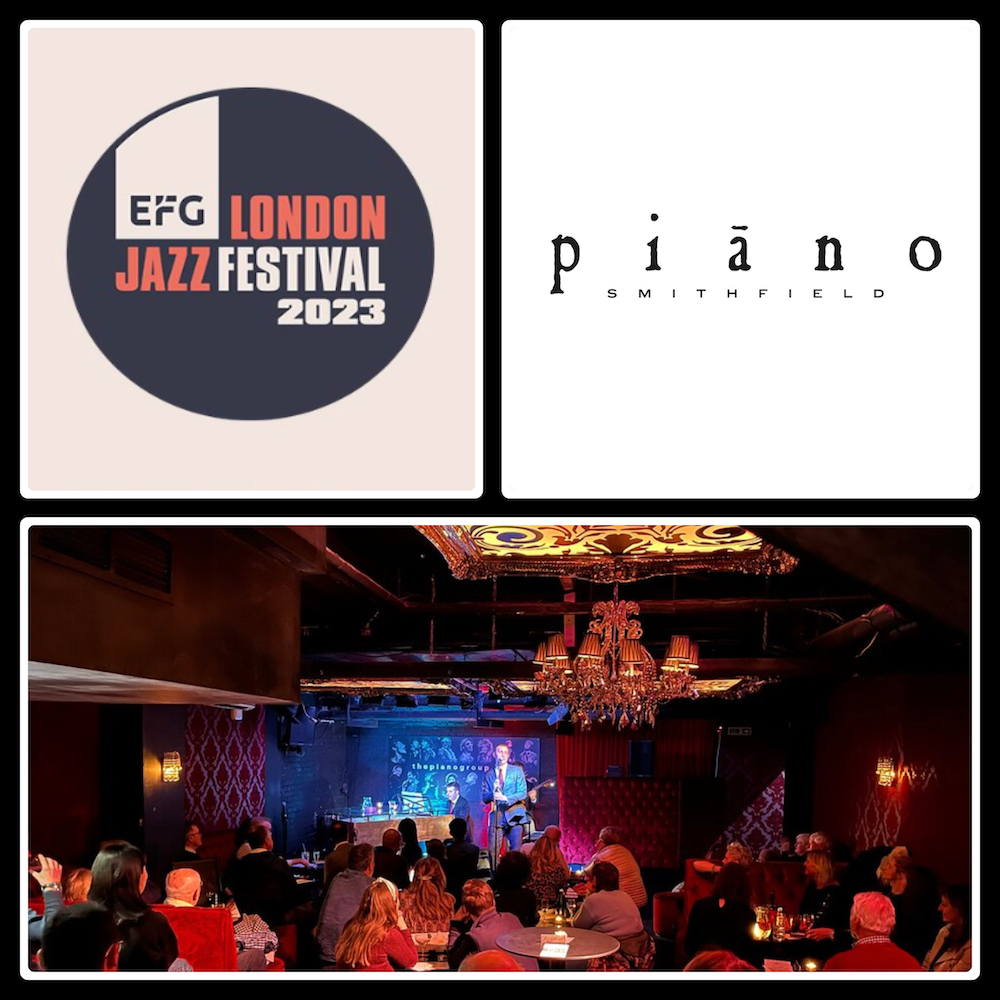 '

Piano Smithfield

is a comparatively recent venue and, it would appear, is enormously popular with the musicians who play there.Why should this be?' —

Jazz Rag
'It's a lovely intimate basement room with a real piano (as you would expect). It's perfect for vocalists and for smaller jazz combos. It's easily got to on public transport including the tube and feels like a real old-school jazz club. Perfect for relaxing and engaging with the audience.' —

Alan Barnes
London's newest and much celebrated jazz venue Piano Smithfield, highly rated by audiences, musicians and the media, hosts eleven.
JBGB Events concerts in the 2023 EFG London Jazz Festival, featuring many great U.K. based jazz stars across big bands, large ensembles, quintets, quartets, duos and soloists, including: -
Bruce Adams, Alan Barnes, Rob Barron, Elaine Delmar,
Gabrielle Ducomble, Nick Fitch, Harry Green, Tom Green,
Chris Ingham, Noel McCalla, Jamie McCredie, Derek Nash,
Dave O'Higgins, Tom Smith, Clark Tracey and many more.
_______________________________________
WHAT PEOPLE ARE SAYING ABOUT PIANO SMITHFIELD
The Media Love it ……..
"Piano Smithfield is a 5-stars venue. I would urge you to visit if you like your jazz in intimate surroundings. It's cool. Damned cool" – Jeff Prestridge - Daily Mail
The customers love it …..
"Piano Smithfield is an easy, laid- back atmosphere built for appreciating the music"
The artists love it …..
"Piano Smithfield is my favourite London jazz venue" — Claire Martin
__________________________________________
Close to both Circle Line Barbican and Elizabeth Line Farringdon stations, with easy on street and off street car parking,
Piano Smithfield is a classic basement jazz club, for 70 seated customers with superb sound and lighting, plus excellent cocktails and wonderful pizzas.
In addition to 8pm evening concerts, we are adding four weekend 3.30pm concerts, so customers have time to enjoy lunch elsewhere, or at the many good eateries at Smithfield and the Barbican, and make it an occasion taking in top jazz and all in time to be home for your Saturday and Sunday Evenings
The box office, at www.jbgbevents.com has details of all concerts and is open for business.
We look forward to the prospect of your company at Piano Smithfield for the EFG London Jazz Festival.
John Billett
JBGB Events